Post by Michiru Morgause on Jan 30, 2016 13:15:27 GMT -8

Nickname:
Justine
Gender:
Female
Species:
Snivy
Ability:
Overgrow
Personality:
Vain and aloof, this pokemon is a diva in every way, enjoying being lavished with attention as much as possible. She absolutely adores having her picture taken by Michiru and being spoiled, though she can also be mature and level-headed when it comes to problem solving and her teammates, though whenever possible she likes to be the center of attention.
Moves:
- Leer
- Giga Drain
- Leaf Blade
- Slam
Met:
Safari Zone

Nickname:
Lancer
Gender:
Male
Species:
Dragonite
Ability: Inner Focus
Personality:
Very serious and dangerous, this pokemon can be almsot sadistic when battling and prefers to completely overpower its opponents. No matter the odds it loves the thrill of battle. He has a begrudging respect for Michiru and her Glaceon due to them having defeated and captured him and generally listens to her commands.
Moves:
- Dragon Rush
- Dragon Dance
- Hurricane
- Fire Punch
- Ice Punch
- Thunderpunch
- Draco Meteor
- Superpower
Met:
Fateful Encounter

Nickname:
Tsun
Gender:
Female
Species:
Glaceon
Ability:
Snow Cloak
Personality:
As her name suggests, Tsun is a Tsundere, sweet but at the same time cold and distant like her trainer. This pokemon was given to Michiru as a graduation present and evolved near her native Snowpoint City. It has the tightest emotional bond with Michiru of all her pokemon and spends the most time with her out of her ball.
Moves:
- Mirror Coat
- Hail
- Ice Fang
- Blizzard
- Ice Beam
- Shadow Ball
- Attact
- Iron Tail
Met:
Fateful Encounter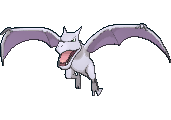 Nickname:
Alduin
The World-Eater
Gender:
Male
Species:
Aerodactyl
Ability:
Rock Head/Tough Claws (Mega)
Personality:
Very arrogant and proud of his ancient heritage, Aerodactyl believes that he cannot be beaten however will flee if he thinks he is losing. He also for some reason thinks he's a dragon-type and tries to buddy up to Michiru's Dragonite to little success. This is Michiru's primary method of aerial transportation.
Item:
Aerodactylite

Moves:
- Rock Slide
- Iron Head
- Ice Fang
- Thunder Fang
- Aerial Ace
- Flamethrower
- Fly
- Earthquake
Met:
Fateful Encounter

Nickname:
Inari
Gender:
Female
Species:
Mienshao
Ability:
Inner Focus
Personality:
A serious but kind-hearted and honorable fighter, Inari has great strength and serenity that she brings to Michiru's team with honor, grace and security.
Moves:
- Hi Jump Kick
- U-Turn
- Bounce
- Aura Sphere
- Bulk Up
- Stone Edge
- Drain Punch
- Power-Up Punch
Met:
Fateful Encounter

Nickname:
Nessy
Gender:
Female
Species:
Lapras
Ability:
Water Absorb
Personality:
A replacement for Michiru's old aquatic steed left at her former employer. This creature has a lot of spunk behind its gentle exterior and is surprisingly vicious in battle, also making a good mount for crossing vast expanses of water.
Moves:
- Rain Dance
- Body Slam
- Brine
- Ice Beam
Met:
Pahala City (Swarm)