Post by Shaun Underwood on Dec 12, 2017 2:22:45 GMT -8

Shaun(a) Underwood
Shaun.

22
(14 June, Bourbon day, Gemini)

Male /
Heterosexual + rare exceptions

Pahalla
Civilian
Odd-Jobs / Scrapper

Standing 5'9, its not exactly instinctive to call Shaun a he with how he tends to present himself. Fully comfortable with the body he was born into, Shaun makes no effort to hide his more feminine physical traits and in fact takes a sense of pride in them. Why should his identity have anything to do with how he looks? Especially if he thinks he looks damn fine half the time.
With a strong build on the side of being described as 'lean', Shaun very clearly has a fair bit of muscle beneath his outer later and prefers to show as much when he can. In the warmer months his usual attire consists of tank tops and shorts, which can easily lead people to take the obvious assumption of his gender. In the colder months, he'll tend to focus on warmth, wearing close fitting but puffy coats and thermal leggings / pants whenever he has a clean set. Maybe a knitted cap if it's especially cold.
On the rare occasion Shaun has been known to bind, but it is certainly rare to see. While he isn't about to shove those particular 'traits' in someone's face, he's even less likely to suppress them. He takes more pride in his muscle and slim figure than those, but at the same time, again, he thinks they're damn fine and would prefer they not be suppressed just to help people call him by the right pronouns.
His skin is generally just a little rough and he avoids makeup when possible. He has a series of black tattoos up his right arm and slightly up the right side of his neck, though they have no particular meaning, he just felt they looked cool.
He tends to wear his brown hair in a ponytail that would reach just below his shoulder blades, but without the ponytail it could reach a little closer to mid-back. He usually only lets his hair down in private or around people he trusts, as his hair is the only aspect of himself he feels oddly self conscious about, though also would never want to cut it.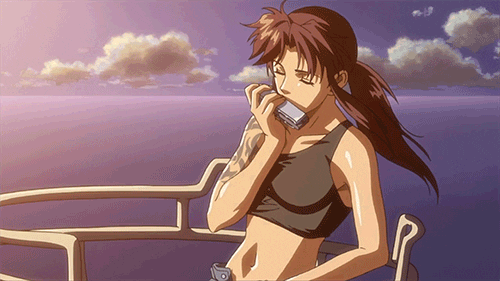 [Summer]
[X]
/
[Winter]
[X]

Your first impression of Shaun will depend on the context of your first meeting. Catch him early in the morning and you'll find someone a little dreary eyed and grumpy, who'd prefer you step out of their way rather than try to get to know him. A little closer to midday and he'll actually tend to be oddly chipper. Even when he's found a crap job to fill his day with, he can find a way to entertain himself, be it simply with some music on his headphones, or by just putting some energy into it. To him anything from hauling scrap to teaching someone how to scuba dive can be fun if you face it with the right attitude.

Later still into the day you might catch a yawn or two, but by the time he hits the bar with his drinking buddies he can be right back on the horse and full of energy. Assuming he's in the mood to socialize of course. Just as likely he could head home to his boat and enjoy some quiet time lazing about and catching up on a show while he works on his weights. Whatever the case, unless you catch him on the wrong side of the bed that morning, you're likely to find someone a little rough around the edges, but more than eager to have a good time with their day.

Even with the happy exterior, Shaun is far from the most sociable of people. Unless you're already on his good side, odds are you're gonna have a hard time getting there. He can be very loud mouthed and uncaring about other people. He's the type of person to yell 'GET A MOVE ON' while waiting in line for a burger, or to drag something noisy through the streets early in the morning. He likes to focus more on his own enjoyment than that of others, and hey if he pisses you off in the process, odds are he's just gonna be amused and ready for a fight if you're offering.

While in his earlier years assuming Shaun's gender may have gotten a volatile response, nowadays he's used to it. Someone can call him she for as long as they want until they're corrected. At that point he'll be listening for context. If it's a slip up, you get a faintly heavy pat on the back and another reminder. Heck if you catch yourself he'll flash you a smile for being good enough to apologize. You purposely continue to call him a girl? Your face is meeting the nearest hard surface till you remember what to call him.

God forbid you know his birth name though. He tends to lock up when he hears the 'a' added to his name. Some people close to him can get away with it as a joke, but strangers tend to come across as purposely instigating something when they use that name with him, even though he might lightly joke now and then himself about how "all it takes is an a to turn a guy to a girl."

Despite the fact he can be a bit of a goof on the job, Shaun tends to have a strong work ethic, not leaving a job till its done even if it takes some overtime. At the same time, he won't accept being tricked. If someone tries to slide a sly rule into a contract, or refuse to pay for work he'd clearly done, he'd happily break out his Pokemon to 'renegotiate'.

Despite his self identification, Shaun has the one exception when it comes to his little sister. While he appreciates her attempts to correctly gender him, he refuses to be referred to as her 'brother'. He doesn't fully grasp why but it feels oddly distancing, and he'd far prefer to be known as her sister.

Oh. And he dosn't share. No sharing. You touch his shit you get punched. Don't care if it's a beer, scuba gear, or even a god damn pen. Get your own.


Raised in Pahalla, Shaun's parents were both loving and, for his early childhood at least, understanding. He wasn't all that rambunctious at a young age but as he started hanging out more with the boys in his classes than the girls, what would have been identified as just a tomboyish nature began to develop, and despite the fact he turned down skirts for pants from an early age, his parents were willing to accept his differing tastes if it meant he was comfortable.

As he got older, Shaun easily grew more attached to his dad than his mom. (not that she didn't get her fair share of love too). He had a fascination in his work as a fisherman and loved to go out on the open sea with him, opting to stay at home to watch and maybe one day help him work when he turned ten, rather than go on a Pokemon adventure like some kids his age. He became quick companions with one of the 'crew members' of the ship in the form of the boat's "mascot Wingull", an oddly colored offshoot of the Pokemon breed that seemed to land on their boat every morning. His dad had told him about how they used to try and shoo it off, but after a while of realizing it wasn't doing any harm, they'd let it sail out with them to their fishing spots, and it would happily eat some of the smaller, less valuable fish from their hauls.

Though...every now and then Shaun would feed 'em a bigger one, which probably helped with the two bonding.~

As the years went on Shaun learned the ropes and played a bigger part in his parent's work. His dad managed to shift his business situation and turn one fishing boat into a small series of boats he ran from back home. Preferring to get his hands dirty than work with the papers, Shaun stuck with the crew of his dad's old ship and kept on working.

around the age of 15, Shaun started developing a mild sense of dysphoria with his own body. He'd always sort of dismissed their tomboyish nature and preference to hang out with the guys as just a sense of preference in what he wore and how he acted. He didn't feel his body was wrong persay, but at the same time it wasn't quite...his, since he began to develop. He still loved his body by all means. With the work he put in on the boats and his spare time it was a damn fine one, but as he bloomed a bit late into his more feminine traits, the sense of disconnect between his appearance and sense of self became a little more present.

He tried not to voice these worries, knowing that as accepting as his mom was, Dad tended to have...harsh views on people with gender identity issues. He didn't go out of his way to make them uncomfortable, but a snide comment whenever something about people like that came up on the news made the issue clear enough for him to keep his mouth shut on the matter. It took him a solid 2 years to really figure out what was up with himself, talking to old friends he knew had similar issues and getting a myriad of views. Some said if he was okay with his body, he was female, some said he could be male and just not be ready to admit it but...ultimately he decided yeah, he was a guy. He acted like a guy, he was rough like a guy, he just...felt comfortable being called one more than a woman. At the same time however, he felt so much more comfortable as he was body wise. Sure, now and then he'd thought of going through a physical transition, but why should he. He was just...he! And he had a damn fine body! Why should he give that up just because he was a guy?

Suffice to say, his path of self discovery may have had brief periods of frustration with the world in general...but once he calmed down, he felt far more comfortable in himself.

A year beyond his journey of self discovery, Shaun was having a meal with his parents. Just something quiet, having something a little fancier than what he was used to as a kid thanks to his dad running a business rather than just his boat now. He didn't mind all that much but...he felt oddly stiff that day. Used to having rowdier drinks with the odd trip to Liggs, or even in Pahalla with his crew-mates sliding him an odd drink now and then when no one was looking. A greasy burger, oily chips. Something so clean and proper just crawled under his skin in an odd way. He didn't even fully think when-

"Shauna, pass the salt?"

"...Dad...my friends call me Shaun now."

It had started quiet. His dad brushing that off as some new nickname and not thinking much of it, but Shaun didn't feel comfortable leaving it like that. It wasn't some nickname to him. It was HIS name. A slow build from trying to explain his choice of name to announcing his new view of himself over his belittling comments about him just being 'confused'. What was meant to be a quiet dinner with the family turned into Shaun storming out to the docks, declaring he didn't wanna live under the same roof as someone who didn't accept him for who he was. In hindsight, he felt it may have been an over-reaction, but even thinking back on it he felt he was still allowed to be pissed, maybe more pissed than he actually was.

Heading on over to the docks, knowing full well that going home wasn't an option without talking to his Dad, and that going in to work tomorrow likely wouldn't be an option in turn if he didn't talk to him, he pulled out his Dad's old boat from storage at the docks and sailed it to one of the far ends of Pahalla, borrowing an old sleeping bag from a friend, and a few battery lanterns to keep the place lit till he could figure out what it'd take to turn the boat into something more habitable. He went to sleep expecting to feel pissed for the following week, but, thankfully, a certain wingull had spotted the old boat he used to perch on before the 'fleet' got upgraded, and just that little bit of company was plenty for Shaun to keep himself going.

Of course, that didn't stop his dad from cutting that sense of peace short by finding his boat later that week. Lucky for Shaun his mom managed to convince Pa to let him keep the boat...majorly due to the fact he cared about it so little these days it took him a week to even notice it had been taken.

Over the years Shaun and his mom reconnected, but he still hasn't seen his dad. He fully admits he still loves his dad but...the way they left things left a bitter taste in his mouth, and despite his mom ensuring him that, despite his views, Daddy still loves him, Shaun just can't bring himself to make that first step to get back in contact, much like his Dad can't seem to do the same. Surviving on odd jobs ranging from teaching scuba diving, to an odd night here or there as a bouncer, (with a personal hobby / job salvaging any old wrecks he hears about), Shaun thinks he's doing quite alright for himself all things considered, even if now and then he can get a little down thinking about his pa.


Pokedex Name: Wingull
Nickname: Ruck
Gender: Male
Ability: Hydration
Moveset: Roost / Pursuit / Aerial ace / Supersonic

Pokedex Name: Carvanha
Nickname: ---
Gender: Female
Ability: Rough Skin
Moveset: Aqua jet / Crunch / Ice fang / Scary face


Major - Dexterity (2)
Working on fishing boats from a young age, Shaun has developed a good amount of skill with his hands, able to make quick, sharp, precise motions, be it from needing to real in a catch on the line, tie ropes up for a net, or just the general swift motions of checking the fish, moving it along, and onto the next. He also knows how to deliver a sharp jab in a weak (albeit mostly cheap) spot from his times working as a bouncer on the odd job.

Minor - Agility (1)
A strong sense of balance has been developed from working on boats in stormy weather, but his main agility boost comes from running a ship on his own now, tending to need to rush across the boat with quick, agile movements to make sure he gets to where he's needed to keep the thing afloat.


- Shaun has a little sister of 12 years age. She was 8 when Shaun left the family but they stay in contact, usually just hanging out on her boat or the odd trip to a fair or something of the like. Due to being so young at the time of his self discovering his little sister adjusted to the new identity really quickly.

- Diagnosed with primary Amenorrhea

- Has some knowledge of basic engineering, but more to the point he can make something usable out of scrap than actually make anything with a lot of moving parts. More welder than mechanic.

- Shaun has high passive strength and endurance. Due to explorations in diving over the years, he has very impressive lung capacity.


---


OOC name: Yumi
Face Claim: [b]Black Lagoon[/b], Rebecca 'Revy' Lee as [i]Underwood, Shaun[/i]
Continuity: Original
Other Characters? Yumi - tokala - marcie - priscilla - niso - mia - Sam/Cat
Starter Items: ---