Post by Zane Grinpiers on Apr 8, 2016 15:50:33 GMT -8

Zane Andrew Grinpiers
| | | |
| --- | --- | --- |
| Za-Chii, Zaneth, Zant | 25 | Male / Bisexual |
| Carrefor | League | Freestyle Rapper |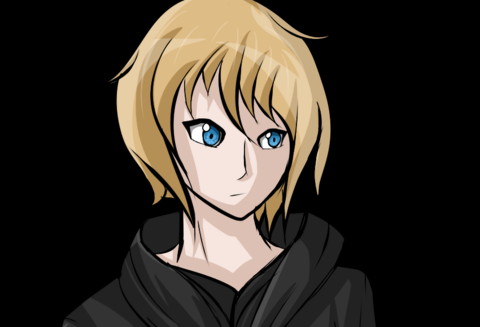 Zane has a rather bland appearance in general terms. Zane's height is only slightly above the average for a male, standing at six feet and one inch high with a slender-built frame and what some would call a "weight problem". Zane is incredibly thin for his age and height standards. His attire is quite bland as well, consisting of a baggy, white-colored t-shirt, a pair of blue- and black-colored, plaid patterned shorts that stop just under his kneecaps and a simple pair of grey-colored running shoes. His hair is mid-length, stretching down to his upper lip in the front and to the top of his spine in the back. It is blond-brown in color and usually kept in messy disarray similar to 'bed head' hair. With no 'control' of his hair, it usually drops into his face and covers his eyes, which are slightly dulled in shade and cerulean in color.

Zane's personality is a messy bundle of various things. Zane has a heavy sense of pessimism, seeming to think in various manners of negativity, seeing only the bad in the world around him. These pessimistic views have cause him to become anti-social and flock away from groups of people. This is because of the fact he fears of being unaccepted by anyone, feeling that he would not be able to handle the rejection mentally or emotionally. Despite his pessimistic outlook, Zane wears a smile upon his face in order to appear happy and keep a positive appearance to those around him. He feels that he is rather intellectual, spending his free time that isn't devoted to being a trainer on working on puzzles and things of this nature to keep his mind sharp. He fancied himself a tactical trainer in the Kanto region and hopes to continue this trend in Torrenta.


Zane was born in the Kanto region, more specifically on the island of Cinnabar where he grew up idealizing the leader Blaine. When Zane's tenth birthday came along, it was a meeting with his idol, Blaine, that got Zane to make up his mind and begin a life as a trainer. With help from his parents, Zane was sent to Pallet Town where he met Professor Oak and began his journey with Charmander as his first Pokemon ever, something he recalls as memorable and a life accomplishment. The boy was proud of himself and his partner, appropriately named "Ember", given it's type, though not sure of the Pokemon's gender.

Zane found the first part of his journey to quite easy, taking down the trainer's with ease being in possession of a fire-type Pokemon and being opposed by only bug Pokemon, but it was not all easy for the novice trainer. When Zane finally made it to Pewter City and it's Gym, he experienced his first taste of losing, not having knowledge of type advantages and weaknesses or how bad his Charmander would fair against a team of Rock-types which were found at Brock's gym. This would serve as the first of many lessons in battling that Zane would learn. With the first loss in battle fresh in mind, Zane went back into Pewter and bought several pokeballs with the money he had left, returned to the forest he had passed to get to the city and assembled his team. It wasn't a full team, but it was certainly better than his single starter be had, catching himself a Caterpie, Weedle, Rattata and Pidgey. Although it took him some time to manage, he beat Brock on their second encounter.

The rest of his history was pretty bland after that. The rest of the Gym Leaders came with their own challenges much like they were supposed to. Zane added a Zubat to his team on his way to Cerulean City to challenge Misty where Caterpie and Weedle evolve to their respective final forms of Butterfree and Beedrill. It took Zane two tries before he managed to score a win against the second Gym Leader. Zane now had a Charmeleon and Raticate along with Butterfree, Beedrill and Zubat by this point. He had learnt about type match-ups at this point and knew his newly evolved Pidgeotto was not a good choice against Surge. This member was replaced with a Diglett that Zane caught in the tunnel near Vermilion City and Surge was easily beaten after that. Following that, Zane traveled to Celadon City where he not only obtained an Eevee, but earned as a unanimous victory over Erika with his Charmeleon and Pidgeotto. At this point, Zane changed his team once more, taking to catching a Growlithe outside of Celadon and using it as well as Eevee to train them both before evolving them.

His new team setup consisted of Charmeleon, Pidgeotto, Growlithe, Eevee, a newly evolved Golbat and Beedrill. This would be the team that would stay with him for a good bit of his journey, seeing him through both a battle with Koga and Sabrina. These battles were good for his team and helped Charmeleon to become a Charizard and Pidgeotto to Pidgeot and, with a fully evolved team, Zane gave Growlithe and Eevee Fire Stones to have Arcanine and Flareon. Zane was happy with his team, finding that he was getting closer and closer to becoming like his idol and next opponent, Blaine. The Fire Type gym had proven to be the hardest of all encounters for Zane, taking him half a dozen attempts before he finally bested the man and moved on to Giovanni. While back home, Zane caught himself a Ponyta and, with some difficulty, a Magmar as well, placing them among his team in the places of Golbat and Beedrill. With this new team and much difficulty, Zane took on Giovanni and, after several attempts at his gym over the course of a month, finally beat him.

All was good for Zane now, he had a mostly Fire Type team and all eight of Kanto's badges are many long months of traveling and many long, challenging battles. All of this changed when he entered the Pokemon League though, losing several times in the League, despite the team setup he had. After so many defeats, Zane just gave up on being a trainer altogether and returned to Cinnabar Island with his pokemon where he stayed for more than a decade before leaving home for a new adventure.

He had left home once before, but it was not as heartfelt of a goodbye in saying goodbye to, not only his family, but the Pokemon he had grown to call his partners for a long time. He wanted a new start though and he couldn't do that with them, but maybe one day he would come back to them. With tears in his eyes, Zane turned away and left his home for the boat that would take him back to the mainland once more.

It was a day-long trip to Fuchsia City, but since it was late, Zane slept the entire way there. Once there, he secured himself a map and a place to spend the second night of this new adventure, awaiting the third morn to begin traveling. It would take him several days to make his way from Fuchsia to Vermilion city where he was heading to catch the next boat and he stopped at Celadon and Saffron cities once again for the nights that he arrived there. On the sixth day into his adventure, Zane finally arrived back in Vermilion City and secured himself a ticket for the large boat to Veria. Upon his arrival, he was quickly informed about the need for Gym Leaders. He decided to take a shot at it, only to find out soon after that he passed, and took up the position of Carrefor's Dark-type Gym Leader.

Pokedex Name:
Houndoom
Nickname:
Syaoran
Gender:
Male
Ability:
Flash Fire
Moveset:
Inferno | Dark Pulse | Nasty Plot | Smog
Pokedex Name:
Pangoro
Nickname:
Gora
Gender:
Female
Ability:
Iron Fist
Moveset:
Work Up | Arm Thrust | Comet Punch | Vital Throw
Pokedex Name:
Absol
Nickname:
Abigail
Gender:
Female
Ability:
Super Luck
Moveset:
Swords Dance | Night Slash | Psycho Cut | Razor Wind
Pokedex Name:
Sableye
Nickname:
Link
Gender:
Male
Ability:
Keen Eye
Moveset:
Confuse Ray | Shadow Claw | Knock Off | Power Gem
Pokedex Name:
Honchkrow
Nickname:
Cherran
Gender:
Male
Ability:
Insomnia
Moveset:
Taunt | Tailwind | Wing Attack | Foul Play
Pokedex Name:
Krookodile
Nickname:
Diansle
Gender:
Female
Ability:
Moxie
Moveset:
Dig | Crunch | Embargo | Outrage
Pokedex Name:
Spiritomb
Nickname:
Pandemonium
Gender:
Male
Ability:
Pressure
Moveset:
Hypnosis | Nasty Plot | Dark Pulse | Dream Eater
Pokedex Name:
Crawdaunt
Nickname:
Gender:
Male
Ability:
Hyper Cutter
Moveset:
Swords Dance | Crabhammer | Night Slash | Protect
Pokedex Name:
Skorupi
Nickname:
Gender:
Male
Ability:
Sniper
Moveset:
Hone Claws | Toxic Spikes | Night Slash | Posion Fang
Pokedex Name:
Deino
Nickname:
Dei
Gender:
Female
Ability:
Hustle
Moveset:
Work Up | Dragon Breath | Slam | Bite

N/A


Shall remain empty for now

He had known this feeling before from earlier in his years, but Zane still found himself frozen. He didn't know what to do to handle these thoughts of negativity that flooded over him. Doubt that he could handle another adventure again, negative thoughts of his age and starting an adventure like he was a young kid again. When was this going to stop?

Zane began to shudder like a small child did to get away from an abusive parent. It had gotten so bad he had clenched his eyes shut to try and keep it from continuing. The man drew in a sharp inhale of breath and let it hold, his body calming and his negative thoughts washing away by the second. With this new found calm, Zane opened his eyes and walked forward.

As he neared the lab, the doors slid open and revealed a bright, blinding light. As the light dulled, the scene inside soon became visible to Zane. As he moved inside, his head glanced back and forth to observe the many scenes that accompanied the lab. He stopped in the middle of said lab, waiting to see if anyone would be around to assist him.


OOC name: Zane. Yup, I'm THAT original
Face Claim: FC is original to my character.
Continuity: both? Import
Other Characters? Nope
Starter Items: Imported Pokemon.